All
"Bee" Empowered: A Woman in Energy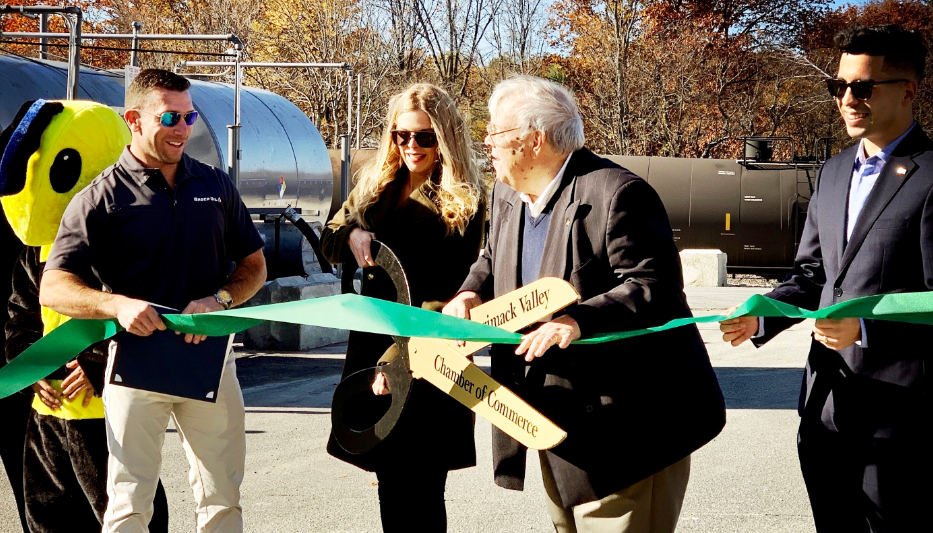 From humble beginnings at her parents' family-owned construction company to a sustainable future as co-owner of one of Massachusetts' most celebrated green energy businesses, Angela Brown may not be the most publicized professional at Broco Oil, but she is certainly an integral part of the Haverhill-based company's continuing success. As Broco's co-owner and chief financial officer, she plays a critical role in virtually every aspect of the business, from delivery and dispatch to procurement and human resources. In fact, it was her vision that helped inspire Broco Oil into existence in the first place.


"Everyone Thought We Were Crazy"
"I was driving for a small heating oil delivery company and getting them a ton of accounts through my network of veterans, firemen and police officers," recalls Bob Brown, Angela's high-school sweetheart, husband of 14 years and fellow Broco Oil co-owner. "One day she said to me, 'You're working all the time, but you're not the one reaping the reward — why don't we do this on our own?' We were 24 years old, and everyone thought we were crazy."

Today, Broco Oil operates a rail terminal that brings in heating oil and diesel from Canada and biodiesel from the Midwest, as well as a full-service fuel supply facility with onsite storage and in-line automated injection blending. The company also offers bulk delivery throughout all of New England, delivers B20 Bioheat® fuel to homes across Massachusetts and New Hampshire, and recently won a contract making them the official heating oil provider for municipal buildings in the City of Boston (see story on page 40). What might have seemed crazy to some 13 years ago now looks like the future of heating and energy in the Northeast.

Of course, back then the company wasn't what it is today. The Browns took out an unsecured SBA loan to buy and park a $7,000 truck, Bob drove it, and Angela ran the entire business out of their modest home office. It wasn't totally unfamiliar territory for her, however. She had a Bachelor of Business Administration from Suffolk University and had grown up watching her mom run the office at her parents' construction company.

Due in large part to Angela's hard work and determination, the Browns' two-person, one-truck venture would eventually transform into a full-fledged regional operation, with a multi-departmental staff, fleet and terminal. Broco Oil would achieve remarkable expansion in a relatively short period of time. And their so-called "crazy" idea would evolve into a hub for heating, transportation and renewable fuels in the greater Boston area. If anyone could've seen it coming, it was Angela.


Not Just Many Hats — All the Hats
"Angela knows the ins and outs of not only the office and all the details that go into that, but also dispatch, heating equipment service, accounting, fuel purchasing logistics and human resources," says Elizabeth Mayton, executive assistant at Broco Oil. "She knows all of these departments like the back of her hand because at one time she was all of these departments. She singlehandedly ran them all!"

What's more, for Angela, being at the top of the company doesn't mean being above any particular job — and that includes fuel delivery. A licensed CDL holder, Angela runs delivery routes with the same tenacity she brings to running the company. "She can drive a truck and pump fuel and make it look easy," says Elizabeth.    

"Growing up in construction, she also has a hydraulics license," Bob adds. "So now when we transfer steel off the railroad, she can jump in a crane, run a loader — she can truly do it all." That includes new duties managing supply lines from Canada and the Midwest, as well as all of the inventory control, quality assurance and bookkeeping that come with such an important task.

"Angela is the backbone of this entire terminal," says Elizabeth. "Truly, without her, this place wouldn't have the success it's had up until today."

Always Looking Forward
Equally important as Angela's role in developing Broco Oil are her focus on the future and vision for a company that is as sustainable as it is successful.     

"I'll go out and get a ton of work, and Angela will reel it in, making sure we don't grow too fast or beyond our capacity," Bob explains. Seeing the business through such a "clear lens," as Bob calls it, is what has enabled Broco to recognize biofuel as being critical to the company's future and to embrace a green footprint.

That kind of leadership and perspective will also surely serve as a source of inspiration for the Browns' six-year-old daughter, Farrah. "She comes into the office a lot," Bob says proudly. "And we teach her that when she grows up, she'll be able to drive trucks, pump fuel, and do everything mom and dad do." It's a familiar story, no doubt, but with eyes open toward a sustainable future.
Related Posts
Join Our Email List For Updates!
Enter your email to receive important news and article updates.