All
The Age of Platforms
by Samuel Diamond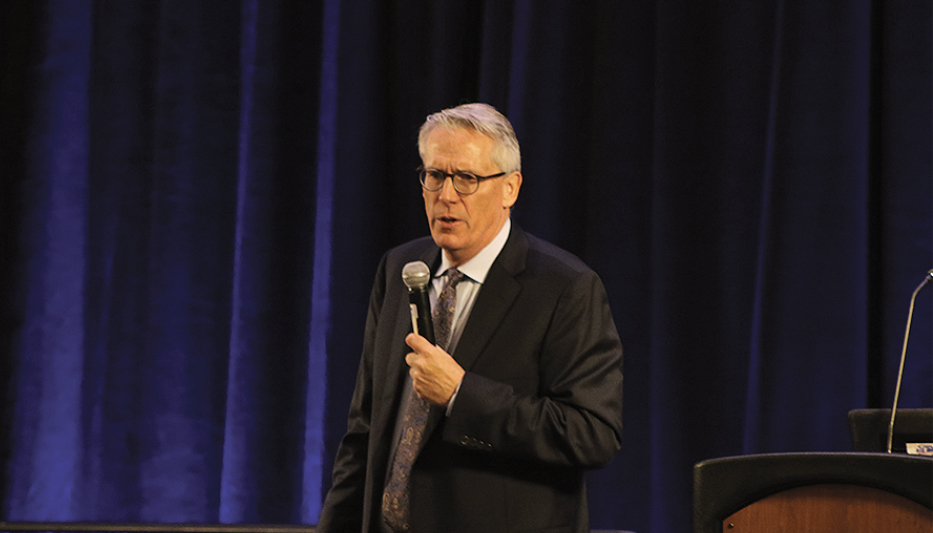 Before the Providence Resolution, there was the Platform Revolution. And while the Northeast heating fuel sector's "net-zero by 2050" commitment has rightfully become the talk of the industry, the HEAT Show keynote presentation by Geoffrey G. Parker spoke to other, no-less-significant market changes.

Parker is a professor with the Tuck School of Business and Thayer School of Engineering at Dartmouth College, where his research interests include supply chain strategy and energy market structure. He previously spoke at the NEFI Energy Leaders Program at Dartmouth last spring.

The HEAT Show keynote began with an overview of energy market disruptions that have occurred within the last decade. Ten years ago, Parker noted, oil market volatility was increasing in both frequency and magnitude, creating new challenges and opportunities for energy marketers who take hedging positions.

The rise of fracking technology helped quiet that volatility, but things can always change, Parker said. As evidence, he pointed to crude oil prices jumping 12% on the day of the presentation after drone strikes knocked out half of Saudi Arabia's oil production over the weekend prior. Iran was blamed for the attack. Another source of volatility is closer to home, though. As one presenter noted during a different HEAT Show session, "We're all waiting on the next Tweet."

The market was not built for both state and non-state actors, Parker said. And as the last presidential election demonstrates, digitization is creating new "attack surfaces" that can lead to major disruptions and recurring volatilities. Parker looked at how these forces might operate in conjunction with one another. As an example, he offered the possibility that political pressures to decarbonize might soon combine with the ongoing wave of economic digitization. The possibility was also explored in "Three Ways Blockchain Might Transform the Energy Industry" from Oil & Energy's June 2018 issue.  

Ages
Since the turn of the 21st century, Parker argued, technology has gone from "the age of networks" to "the age of data" and is now entering "the age of platforms," which represents a marriage of the two previous periods.

The age of networks, Parker explained, could be characterized by the rise of the internet and social media, connecting physical, digital and social spheres. The age of data saw a surge in digital data generation and valuation, as well as tools built for businesses to capture, manage and sell that data. Fuel sellers might recognize these concepts from any number of analytics-driven "smart marketing" tools offered today by companies like PriMedia, Angus, ADD Systems and others.

In the age of platforms, Parker said, we are witnessing an explosive growth of capital market firms that manage both physical and digital capital. Evidencing the rise of digital capital, Parker pointed to the flip-fop that has occurred in the assets of major energy producers; whereas in the 1970s these companies' assets were about 17% intangible and 83% tangible, today their assets are 84% intangible and 16% tangible. These intangible assets include not only internet protocols (IP), but also a network effect of value created when data is transferred between different digital systems and users.

With this in mind, Parker encouraged energy marketers to think more profoundly about what they'll do with customer data once it's integrated into the larger supply chain. That might seem like a remote possibility to some, but keep in mind that following regulator intervention, Deutsche Bank is being forced to reveal its customer lists to its competitors. "I'd argue that all firms are going to have to deal with these kinds of transformations," Parker said.


Platforms
So, what exactly is a platform and what does it look like for today's energy marketers? To help keynote attendees better understand these concepts, Parker first offered a larger look at the traditional linear supply chain. In this "pipe" model, products would go from manufacturer or producer to supplier or wholesaler to marketer or retailer.

Today, these supply chains are starting to break apart. Intermediaries or middlemen are sitting at critical points along the chain and mediating the interactions by supplying things like computational power, network connectivity, and out-of-box technology that make it easier for market participants to innovate and consume. A couple of downstream energy market examples come to mind.

In the November/December 2017 issue, Oil & Energy covered how online fuel delivery platform "Slick Energy Aims to Connect Heating Oil Dealers and Consumers." Supply chain disruptions need not take the shape of online platforms, however. For example, the PUTNUS® Delivery System offers industrious dealers the option to legally transport heating oil via pickup trucks and five-gallons cans with no CDL or tanker required. The appeal to short-staffed fuel delivery fleets is obvious.

Going back to the digital realm, Parker said that over time platforms become multisided. He gave the example of Google, the web giant that went from serving internet searches only to serving searchers, advertisers and third-party sites. In a sense, it's a self-fulfilling prophecy as more users create greater value, which attracts additional users. The phenomenon is not unique to Google. After all, Amazon, when launched, was really no more than Barnes & Noble with an online catalog. However, over time, the platform lured in other businesses and was able conquer entire sectors as a result.

No industry is invulnerable to disruption in the platform revolution, Parker argued. "If I'm a brick supplier or steel supplier, I'm worried because with only one more button I get commoditized," he said. "If it can happen in cement, it's hard to imagine a set of primary materials in which it can't happen."

Changes & Opportunities
Across the energy industry — and specifically in the deliverable fuels market — due to the political pressures of climate change and decarbonization, supply chains are changing. Any time there's change that's regulatory driven, Parker observed, it creates opportunities for shifts in supply chain structure where technology firms can implement digital systems that reorganize the roles of market participants. As such, energy marketers can expect supply chains to change on both the business-to-business (B2B) and business-to-customer (B2C) sides.

With this in mind, Parker challenged business owners, executives and managers in attendance at the HEAT Show to use this conference as an opportunity to take a step back, look over the playing field and see where value is created and digitized. In addition, energy marketers need to rethink how they plan to deal with all of the data their businesses generate. In the age of platforms, Parker said, competition has less to do with how much product each marketer sells directly and more with how marketers manage customer data and relationships.

This paradigm shift creates a once-in-a-generation opportunity for companies to reshape their business models. Those companies that have already invested in data and customer relationship management have strong, valuable assets in place and opportunities to create the platforms that will drive industry success. Moving forward, partnerships will be critical for this success, as not every firm will become a platform but all will eventually participate in platforms. Thus, the biggest risk is doing too little too late.

"Very few players in the room are going to grow up to be Amazons, but you're all going to have to deal with Googles and Amazons," Parker said. "You're better off thinking about that collectively as an industry than as fragmented individuals." Otherwise, Parker proposed, just as the industry might be regulated out of business, its players might be commoditized out of existence.

At the Providence Summit, the industry chose instead to stand together to protect its future generations.
Related Posts
Join Our Email List For Updates!
Enter your email to receive important news and article updates.