All
Accidents Waiting to Happen?
by Rich Morahan, Richard Morahan Associates, for Lock America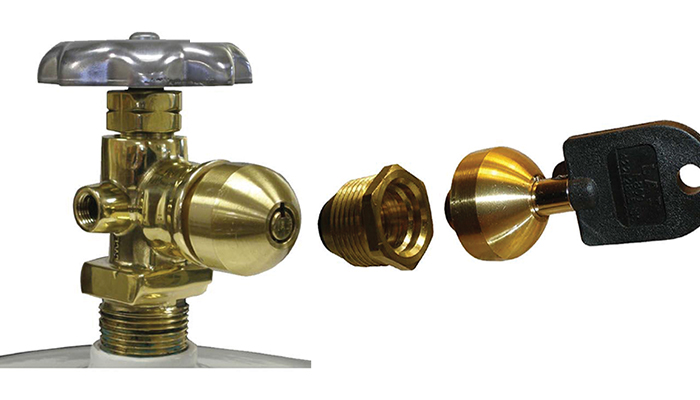 Empty propane tanks and inadequately secured, disconnected tanks can be expensive accidents waiting to happen, but there are steps a marketer can take to prevent tampering and reduce risk.
An unsecure plug device without a security key or solid brass construction will not secure tanks against tampering and unauthorized fills. More importantly, these unsecure, easily bypassed plug devices can leave a marketer and their business exposed to significant financial liability.
Two multi-million dollar lawsuits indicate just how much those accidents can cost. In Jones v. Centerpoint Energy Entex, a Louisiana natural gas supplier was sued for damages caused by an explosion, and a jury held Centerpoint liable for $11 million, even though Centerpoint had put what they considered to be an adequate outlet plug device on the tank that exploded.
Centerpoint's customer, who was disconnected for non-payment at the time of the explosion, apparently had little to no difficulty removing the outlet valve device with a simple wrench, eventually resulting in a devastating explosion. The customer was held 50 percent liable for the damages, but that still left a lot of liability for Centerpoint. The jury determined that Centerpoint had made an inadequate effort to secure the disconnected gas line, and protect its customer (from reconnecting). An unsecure outlet valve plug and a simple red warning couldn't stop its customer, or protect the company from the resulting liability.
If customers can easily bypass an inadequate outlet valve plug, or give access to the tank to a careless supplier, there could be a heavy price to pay, because courts and juries appear more than willing to hold gas suppliers responsible for their customers' carelessness. In words of the Centerpoint judgment, any device "that can be opened with ordinary household tools could not be considered a locking device."
Reasonable Care
A second case, Mauck v. Empire Gas, dealt with an Indiana propane gas dealer that chose to disconnect and secure a half-full tank with just a warning label and an outlet plug device that apparently was easy to remove. The plaintiff in the case claimed damages after they had tampered with the outlet plug device. After removing the device, the plaintiff reconnected the tank by himself, which led to an explosion with serious injuries to a number of people. And—surprise—the victim who had reconnected the tank then sued Empire Gas, apparently for not protecting him from himself.
Empire, the supplier, sought Summary Judgment against the plaintiff, asserting that an outlet plug and a red warning notice were sufficient to hold them not liable. The court disagreed, holding that, "Empire Gas owed general duty of reasonable care to any person who might be injured by its propane." The case is headed for a jury trial, so Empire might or might not prevail. Whatever the outcome, relying on an unsecure outlet valve plug and a red warning label has already cost Empire in legal fees, with potential for greater costs in the end. Even though the court acknowledged that the outlet valve plug "was mysteriously removed and the gas line was mysteriously reconnected," the court denied Empire's request for summary judgment.
A Security Solution
Marketers who want to secure their tanks, protect customers from themselves, and keep the company out of court, should consider a product such as Lock America's POLock™. Constructed of the same solid brass used in an outlet valve fitting, POLock is designed specifically to block an outlet valve and stop any unauthorized reconnection. The plug is engineered to perfectly fit the interior threads of the outlet valve. The cap snaps easily onto the plug, and spins in place unless it is unlocked. This makes it impossible to remove the lock without the correct key.
Every Lock America client receives their own registered key codes that unlock only their POLock. Not only does the POLock secure the tank, it also provides a secure appearance that discourages attempts to vandalize the tank or reconnect it without authorization.
Protect Revenue by Blocking Competitors
There is a reason that propane companies usually own and control their tanks: They want to ensure that the tanks are filled and serviced by trained, accountable technicians. A lock such as the Lock America Fill Valve Lock, which is designed and engineered by a manufacturer that specializes in security devices, provides the best protection and deterrence against an accident caused by an unauthorized fill.
The alternatives don't do the job. A low-cost "clam shell" fill valve lock made of flimsy "pot metal" and secured by a cheap padlock is an invitation to an enterprising customer or an unscrupulous competitor. A medium-sized bolt cutter can make short work of the padlock, and now you may have an unscrupulous and perhaps poorly trained driver delivering an explosive liquid to your tank.
The Fill Valve Lock also prevents your customer from shopping around for a better price, even though you maintain and service the tank. You could be losing from 30 percent or more each season to unauthorized fills from an unscrupulous and unethical competitor.
Securing a Disconnected Tank
How does a marketer secure the outlet line on a disconnected customer's tank? Do they install an unsecure outlet plug device that would not discourage a customer from trying his or her luck with a screwdriver or a simple household wrench to remove the plug and reconnect their line themselves? When disconnecting a customer for not paying their gas bill, it is critical to ensure that it will be very difficult, if not impossible, for them to reconnect the gas line. In the event of a mishap, the marketer might have to convince a jury that they had taken adequate preventive steps.
If the customers cannot reconnect the line themselves, they have no choice but to call the marketer, who can then get paid and reconnect the gas line. In the meantime, the customers will not be in danger of blowing themselves up. Tom Mullaney, a risk engineer for a national business liability insurer, agrees that the Lock America Fill Valve and POLock provide the protection a propane company needs, stating that, "I recommend your locks to all of my propane clients, because I think they are the best protection against customer attempts to reinstate their own systems. Most people in the industry are not aware of your locks and are still utilizing non-locking plug devices. I would encourage you to further your penetration into this marketplace that needs your product."
Preventing Tank Theft
How common is theft of propane exchange tanks from outdoor retail cages around the country? Any Google query on "propane tank thefts" is likely to yield three or four reported incidents over the past month, from Washington state to Florida. The solution? A marketer can deter tank theft and reuse by locking each tank with a POLock. As one operator says: "If they can't use it, they won't steal it." When selling or releasing the tank, the marketer removes the lock and rotates it through their stock. And with a registered key code, the marketer can use the same key for the fill valve and outlet valve locks for all their tanks as well as other Lock America locks they use, such as padlocks, disk locks and gate locks. The registered key system is convenient as well as secure.
Secure Your Business
Cases and judgments regarding unsecured propane tanks are not common, but it takes only one incident with unsecure blocking devices to leave a propane supplier open to a disaster that could take lives and cause serious injury, with a resulting judgment that could easily ruin a business. And if the supplier's negligence can be proven, insurance may not cover all of the judgment. It makes sense to check with a liability insurance agent. Marketers may be able to enhance their coverage if they can demonstrate that the security locks and devices they use provide better security than other devices that are in common use.
Rich Morahan writes frequently about security and marketing for the propane and other industries, including information management, petroleum distribution and self-storage. You can contact him at 617-240-0372 or rmwrite@comcast.net or visit www.rmorahan.com. 
Related Posts
Posted on August 11, 2023
Posted on August 11, 2023
Posted on August 11, 2023
Posted on August 11, 2023
Join Our Email List For Updates!
Enter your email to receive important news and article updates.