All
2020 Federal Election Outlook
by Jim Collura, NEFI Vice President & Director of Government Affairs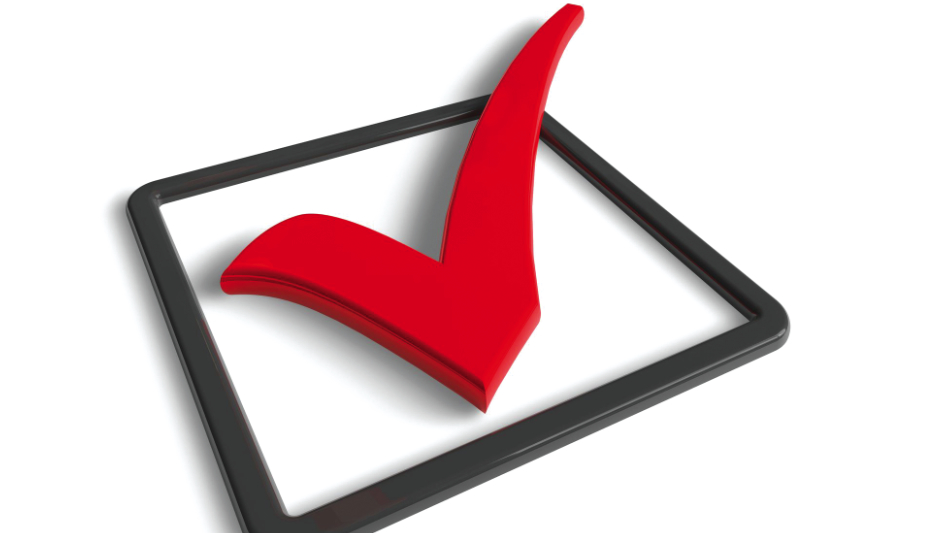 A final preview of the upcoming election and possible implications for the heating fuels industry
In his acceptance speech for the 2020 Republican Nomination, President Donald Trump called this year's election the "most important in history." At stake is not only the presidency but also control of Congress and, possibly, the Supreme Court. The results will have profound implications for not only the nation but also the future of the home energy business. Here we offer a summary of the key races to watch and how various scenarios may impact your business and our industry's legislative agenda.

The White House
President Trump must secure at least 270 electoral votes to win reelection. In 2016, Trump won the presidency with 304 electoral votes to Hillary Clinton's 227. Three states instrumental in securing his previous victory were Michigan, Pennsylvania, and Wisconsin, which were won by a combined total of 80,000 votes. These states are highly contested once again. Changing political trends and voter demographics may offer several other pick-up opportunities for both candidates.

The Republican strategy is to hold all states President Trump won in 2016 while flipping one or two blue states. This will serve as a hedge in the event he loses a state or two that he won by a thin margin in 2016. The Trump campaign is eyeing Minnesota, which has been trending more conservative in recent elections, and Nevada, where Democrats' campaign operations have been negatively affected by the coronavirus pandemic.

Meanwhile, the Biden campaign will try to replicate Obama's 2012 map by recapturing Michigan, Pennsylvania, and Wisconsin and flipping Ohio and Iowa. Maine and Nebraska are also worth watching. Unlike other states that follow a traditional "winner-take-all" method, these states distribute electoral votes based on the outcome in specific Congressional districts. The Second Districts of both Maine and Nebraska went for Trump in 2016 and are expected to be contested this November. They offer only a handful of electoral votes, but could push one of the two candidates over the top in a very tight race.

Changing demographics appear to be shifting once reliably Republican "Sun Belt" states from red to purple. Joe Biden hopes to pick up Arizona by driving turnout among Latino voters. Both presidential campaigns are campaigning heavily in the perennial swing state of Florida, which Trump won in 2016 and may hold the keys to the White House again this year.

In Texas, Republican Senator Ted Cruz barely won reelection in 2018, having defeated Democrat Beto O'Rourke by a mere 2.6 percentage points. Georgia, another diverse "Sun Belt" state, is also becoming increasingly competitive. It is unlikely all of these states will "go blue" in this election, but if they do, it would signal a historic landslide victory for Biden and the Democrats.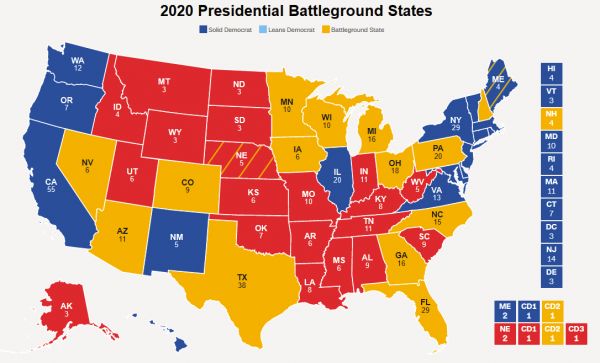 United States Senate
All 100 U.S. Senators serve six-year terms and are divided into three "classes" based on when they were first elected. Republicans are significantly disadvantaged. A total of 23 Republican seats are on the ballot, compared to just 12 for Democrats. Many seats the GOP must defend are in states that are purple or have been trending in that direction. As a result, Democrats have a real shot at retaking control of the chamber. They must achieve a net gain of four seats to secure a 51-seat majority if President Trump is reelected. If Biden wins, a net-gain of only three seats would be required for a 50-50 split, in which case his vice president (Kamala Harris) would cast the tie breaking vote.

While most Democrats are running in solidly blue states, two of their candidates are particularly vulnerable. Incumbent Democrat Senator Doug Jones of Alabama won the senate seat vacated by Jeff Sessions in a special election in 2017 by defeating Republican candidate Roy Moore. Many analysts believe Moore, a former Court Justice, only lost the election due to assault allegations that surfaced during the race. Senator Jones must defeat former Ole Miss football coach Tommy Tuberville to hold his seat this November, a very unlikely prospect in this staunchly conservative state.

Loss of Alabama will require Democrats to flip a total of four seats if Biden wins, and five if Trump wins. These numbers increase to five and six, respectively, if Democrats lose the hotly contested senate seat in Michigan. Incumbent Senator Gary Peters faces Republican John James, an African American businessman and Iraq War Veteran. Flipping half a dozen or more seats is not impossible, however, due to the large number of contested Republican seats. Additionally, a handful of senators are moderate or right-of-center on certain issues, such as climate change. This includes Senator Joe Manchin of West Virginia, who is likely to serve as Chairman of the Energy & Natural Resources Committee if Democrats win back control of the chamber.

Of the 23 GOP seats up for grabs this year, at least 10 can be classified as competitive. Republican incumbents are most at-risk in two states: Arizona and Colorado. Arizona Senator Martha McSally faces a strong challenger in Democrat and former astronaut Mark Kelly. Kelly became a household name when his wife, then-Congresswoman Gabrielle Giffords, barely survived an assassination attempt in 2012. Republicans hope for a come-from-behind victory both there and in Colorado, where Senator Cory Gardner faces popular former Governor John Hickenlooper.

In Maine, Senator Susan Collins is neck-and-neck in a race against Democrat Sara Gideon, former speaker of the state's House of Representatives. The presence of two third-party challengers complicates the race, particularly due to the state's confusing ranked-choice voting system. Of note, Senator Collins has championed several issues important to the heating fuels industry, most notably the creation of the National Oilheat Research Alliance (NORA) in 2000 and its most recent 10-year reauthorization.    

Other potentially vulnerable Republican incumbents include biodiesel-industry champion Joni Ernst of Iowa, Thom Tillis of North Carolina, Steve Daines of Montana, David Purdue and Kelly Loeffler of Georgia, and Lindsay Graham of South Carolina. Democrats think they can win a few other seats if they have a big night, including seats held by Senators Dan Sullivan of Alaska and John Cornyn of Texas, Senate Majority Leader Mitch McConnell of Kentucky, and the open seat in Kansas. The odds are very much stacked against them, however.

U.S. House of Representatives
House members serve two-year terms, which means all 435 lower-chamber lawmakers are on the ballot this year. A total of 218 seats is required for a majority and Republicans must net at least 17 seats to regain control of the chamber. While not impossible, it is unlikely due to lagging House GOP recruitment and fundraising efforts. Less than ideal approval ratings for Trump in swing districts have also tempered support for Republican challengers, particularly in urban and suburban districts. The party will need a wave election to carry it to a House majority and that is seen as unlikely in the current political environment. See the tab below for a list of competitive House races.

Uncertainty is the New Certainty
The "conventional wisdom" in 2016 was that Hillary Clinton would win the White House, possibly by a landslide. This expectation was based on polling data, forecasting models, and the "expert" pundits in mainstream media. But polls are not necessarily indicative of outcome, models are only as good as their data, and no political pundit is truly free of bias. Of course, most of them turned out to be very, very wrong. Trump defied expectations and pulled off a surprise victory. He remains the same unconventional candidate he was in 2016 and cannot be ruled out no matter how far behind he falls in the polls.

Three other important factors loom over the 2020 elections.

First, our nation faces challenges on many fronts, including a global pandemic, economic uncertainty, and recurring bouts of social unrest. The American public is deeply divided over solutions to these problems and which party is best suited to handle them. New or worsening crises between now and Election Day, perhaps even an "October surprise" or two, could have dramatic impacts on national races.

Second, the ongoing coronavirus pandemic is certain to affect when and how people vote. Early voting and mail-in balloting are expected to reach historic levels this election. This may create lopsided advantages for one party or candidate, raise questions regarding the integrity of the balloting and the legitimacy of the outcome, and present opportunities for legal challenges. But I am an optimist. I believe in our Constitution, laws, and centuries-old tradition of the peaceful transfer of power. At some point, there will be an outcome accepted by most Americans, and we will move forward for better or worse.

Implications for the Industry
Smart businesses and trade associations will prepare for all outcomes. The election could result in another two years of divided government (i.e., different parties in control of the House, Senate, and/or White House). If he wins a second term, President Trump has promised to build upon previous successes including deeper tax cuts and deregulation, and to continue pursuing "America-first" trade policies. The White House might also finally be able to enact a large-scale bipartisan infrastructure bill.  

The most consequential election result for our industry would be if Democrats were to secure the White House and both chambers of Congress. If this happens, Democrats have promised to advance a myriad of legislative initiatives, including a rewrite of highway safety regulations, legalization of marijuana, repeal of the Trump tax cuts, "strengthening" of Obamacare, and perhaps most importantly, a comprehensive climate change bill. All would have significant implications for fuel dealers and businesses in general.

Democrats released a Climate Action Plan this summer that calls for the decarbonization of the American economy by 2050. The plan includes hundreds of recommendations for achieving these goals, including a direct-to-consumer rebate for the conversion of oil and gas heating systems to electric heat pumps. Biofuels are mentioned, including a proposal to replace the EPA's Renewable Fuel Standard with a Low Carbon Fuel Standard (LCFS) for transportation fuels based on the California model. NEFI has criticized the plan for failing to acknowledge the valuable contributions being made to greenhouse gas reductions by BioheatÆ and other renewable liquid heating fuels.

Senate Democrats would not need a super majority of 60 votes to pass climate change legislation. They have already promised to use the budget reconciliation process to move this and other elements of their agenda where bipartisan support cannot be reached. This process enables the majority party to include policy measures to "reconcile" annual budget, thereby circumventing a filibuster and allowing legislation to pass with a simple majority of 51 votes. Alternatively, they could reform or eliminate the Senate filibuster. Doing so would dramatically change the legislative process and reshape the future of American politics.

Fuel dealers and their employees run the gamut of political parties, opinions, and preferences. Yet all remain committed to a competitive future for our industry's next generations. President Trump was right in suggesting the 2020 election may be a defining moment for our nation. We must hope for the best possible outcomes for our industry while preparing for the worst. We must confront all challenges to our businesses and seize all opportunities presented by this election. We must double our resolve, remain united, and fight for our future, no matter the outcome.

NEFI will provide a thorough analysis of 2020 election results and their implications for the heating fuels industry in a future issue of Oil & Energy Magazine.
Democrat-Held Seats:
AZ - 01 - O'Halleran

CA - 10 - Harder

CA - 21 - Cox

CA - 39 - Cisneros

CA - 48 - Rouda

FL - 26 - Mucarsel-Powell

FL - 27 - Shalala

GA - 06 - McBath

IA - 01 - Finkenauer

IA - 02 - Open

IA - 03 - Axne

IL - 14 - Underwood

IL - 17 - Bustos

KS - 03 - Davids

ME - 02 - Golden

MI - 08 - Slotkin

MI - 11 - Stevens

MN - 02 - Craig

MN - 07 - Peterson

NH - 01 - Pappas

NJ - 03 - Kim

NJ - 05 - Gottheimer

NJ - 07 - Malinowski

NM - 02 - Torres Small

NV - 03 - Lee

NV - 04 - Horsford

NY - 11 - Rose

NY - 18 - Maloney

NY - 19 - Delgado

NY - 22 - Brindisi

OK - 05 - Horn

OR - 04 - DeFazio

PA - 07 - Wild

PA - 08 - Cartwright

PA - 17 - Lamb

SC - 01 - Cunningham

TX - 07 - Fletcher

TX - 32 - Allred

UT - 04 - McAdams

VA - 02 - Luria

VA - 07 - Spanberger

WA - 08 - Schrier

WI - 03 - Kind
Republican-Held Seats:
AK - AL - Young

AR - 02 - Hill

AZ - 06 - Schweikert

CA - 04 - McClintock

CA - 22 - Nunes

CA - 25 - Garcia

CA - 50 - Vacant

CO - 03 - Open

FL - 15 - Spano

FL - 16 - Buchanan

FL - 18 - Mast

GA - 07 - Open

IL - 13 - Davis

IN - 05 - Open

KS - 02 - Open

KY - 06 - Barr

MI - 03 - Open

MI - 06 - Upton

MN - 01 - Hagedorn

MO - 02 - Wagner

MT - AL - Open

NC - 02 - Open

NC - 06 - Open

NC - 08 - Hudson

NC - 09 - Bishop

NC - 11 - Vacant

NE - 02 - Bacon

NJ - 02 - Van Drew

NY - 01 - Zeldin

NY - 02 - Open

NY - 24 - Katko

OH - 12 - Balderson

OH - 01 - Chabot

OH - 10 - Turner

PA - 01 - Fitzpatrick

PA - 10 - Perry

TX - 02 - Crenshaw

TX - 03 - Taylor

TX - 06 - Wright

TX - 10 - McCaul

TX - 21 - Roy

TX - 22 - Open

TX - 23 - Open

TX - 24 - Open

TX - 25 - Williams

TX - 31 - Carter

VA - 05 - Open

WA - 03 - Herrera Beutler
Related Posts
Posted on February 14, 2023
Posted on February 13, 2023
Posted on December 15, 2022
Posted on December 15, 2022
Join Our Email List For Updates!
Enter your email to receive important news and article updates.