All
Welcome to Safety Jeopardy
by By Ed Burke, Dennis K. Burke Inc.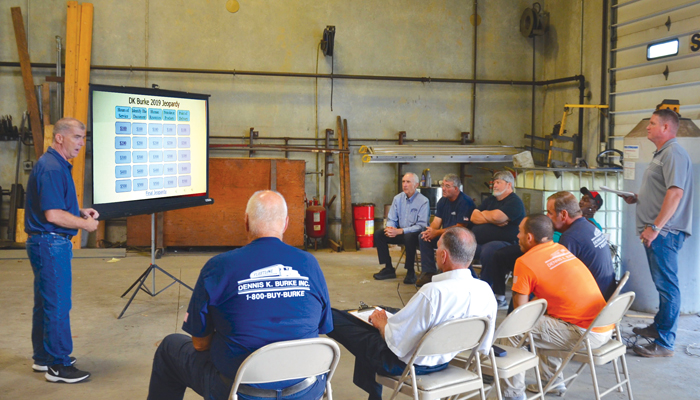 During the Summer, our safety team likes to break from the norm, and review safety issues in a fun and productive game of Safety Jeopardy. The game has become very popular with our drivers, and it's a great way to touch on relevant topics.

Our Safety Director, Matt Manoli switches hats and becomes our game show host. "I thought it was perfect, as I've always asked a lot questions of the audience in an attempt to keep them engaged," explains Matt. "Safety Jeopardy really hits the mark, keeping everyone interested and engaged. The competition aspect of it works. Our drivers really take it seriously, because they don't want their team to lose.

"Safety Jeopardy gives the trainer the opportunity to train on many different topics in a short period of time. The idea was actually suggested by our HR Manager. There are downloadable PowerPoint templates for Jeopardy on the internet, we just made it about safety," Matt noted.

Like the real Jeopardy game, there are five categories, with five questions for each category. The answer must also be given in the form of a question. The drivers are split into two teams and the competition begins.

This year's categories were Hours of Service (dealing with electronic logging devices); Identify the Document (reviewing the required paperwork drivers carry in their truck); Human Resources (benefits like 401k, calling in sick time, and referral bonuses); Petroleum Products (fuel and lubricant properties); and Point of Delivery (which covers topics like overfill protection devices, checking for water, and issues that come up at the customer's site).

"I think Safety Jeopardy is a great tool because it gives drivers a change of pace, and is another way of getting valuable information to them in a way that is more entertaining than just watching a PowerPoint presentation or listening to someone stand in front of them and deliver material," points out Safety Manager Todd Ferris. "It's a fun, interactive way to generate discussion, get valuable points across, and reiterate important information.

"My experience has been that most drivers seem to enjoy the competitive, friendly nature of the game," Todd added. "They seem very engaged, which is always important during safety meetings. Obviously, some material can be dry, so coming up with different ways to keep people's attention is important. I think the biggest benefit to Safety Jeopardy is the fact that everyone can be involved."

Our drivers have a tough job, and are required to remember a great deal of information. People learn in many different ways, so introducing information in a variety of ways helps to ensure all drivers retain as much information as possible. Safety Jeopardy is a fun way to re-emphasize important bits of information, reiterating points that have been brought up in previous meetings, so that the drivers hear the information one more time.

So, what was the Final Jeopardy question? A hard-braking event occurs when a vehicle drops ___ in ___. The answer is: What is 7 mph in 1 second?
Related Posts
Posted on February 18, 2020
Posted on December 13, 2019
Join Our Email List For Updates!
Enter your email to receive important news and article updates.