All
Filling the Vacuum
by Samuel Diamond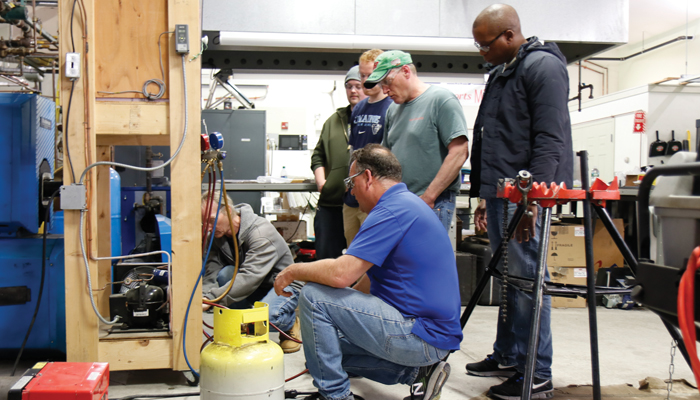 Maine Technical Education Center helps mitigate the industry's labor shortage
In November 2018, Stepwise Data Research released its report on "The Economic Contribution of Maine's Heating Fuel Industry: 2018."
The report, commissioned by the Maine Energy Marketers Association (MEMA), highlighted the important role that heating oil and propane providers play in the state's economy. "In total, the economic activity associated with Maine's heating fuel industry supported over 9,500 jobs and $440 million in earnings," the report stated.
That good news is slightly hampered, however, by a somewhat grim reality. "More than half the workers employed in the heating fuel industry are over age 45," the report stated. And of those aging workers, nearly half are also over 55, the report showed.
In other words, the field — which directly employs 4,960 workers, according to Stepwise research — will need to recruit and replace well over 2,000 of them, and soon, or else face an even worse labor shortage than that which already threatens the industry.
For their part, MEMA leaders are acutely aware of the problem and focused on a permanent fix. That's where the MEMA Technical Education Center (MTEC) comes into the picture.
Founded in 2004, MTEC houses a 2,400 square-foot training lab where the heating and air conditioning technicians of today and tomorrow receive hands-on training and practical experience. The school's HVAC-R Professional course — a 560-hour, three-and-a-half month program covering plumbing, oilheat, air conditioning, refrigeration, propane, natural gas, appliance installation and service, tank setting, and outside piping — graduates approximately 100 students each year. Another 200 attend breakout sessions held throughout the year, and thanks to a $250,000 grant from the Propane Gas Association of New England (PGANE), MTEC's student capacity recently doubled.
Most importantly for the industry's future, MTEC is connected to a network of more than 300 hiring companies throughout Maine and New Hampshire, and the school has a job placement rate of 95 percent. "Most of those students are going right to our members," says MEMA Vice President Matthew Morrison.
For all the school's success, Morrison is quick to credit his partners in the industry, both at home in Maine and throughout the country. "The National Oilheat Research Alliance has been extremely helpful," he says. "When you look at our lab, you see tens of thousands of dollars in state-of-the-art equipment, all of which has been donated by the industry. Our contributors, members and MEMA itself have all dug in to make this school what it is."
MTEC Senior Instructor Bryan Champagne points out that the school has expanded significantly since its beginnings when only courses in oilheat were offered. "Demand in Maine for products like electric heat pumps and mini-split air conditioners has grown over the years, and the school has grown right there along with it," he says. That demand is sure to continue growing now that Governor Janet Mills has announced plans to mandate 100,000 heat pump installations over the coming years.
Not coincidentally, next year MTEC will add to its HVAC-R Pro course an additional week dedicated entirely to heat pump training. School officials are also looking at the possibility of adding courses on welding, solar power, and automated systems technology, as well as CDL-HAZMAT training.
Reflecting on the continuing need for quality trade schooling, Morrison laments that many educational professionals seem more concerned with getting students into degree programs than with helping them land good jobs. "Guidance counselors are obsessed with four-year degrees," he says. "We've heard stories where kids want to be welders and are told they're too smart for that. We have to change that mindset."
Fortunately, some educators are starting to catch on, and with good reason, Morrison adds. "After just three-and-a-half months with us, you get a job," he says. "Then you can actually afford to pay for college, or better yet, get employed by someone who will pay for you to go."
"I know guys down at the VFW with bachelor's degrees and $60,000 in debt," notes Champagne. "With a job in the trades, you can pay that off in three or four years and you're on your way to a career that lasts you a lifetime."
One key to MTEC's remarkably high job placement rate, Champagne and Morrison agree, is the school's job fair. "At the end of the HVAC-R Pro course, we have as many as 20 service managers come in to meet the students," Champagne explains. "Many are hired right on the spot, even before they take their journeyman's tests."
"The job fair actually takes place before graduation, so students can go right into the workforce once they complete the program," Morrison adds. "At the end of the day, you can get a certification in anything, but if you don't have a job it doesn't matter."
The other key to the school's success is its concentration on hands-on training, an evolution of the classic mentor-apprentice model that dates back hundreds of years. This, Morrison says, is a far cry from the kind of technical education students can get at local community colleges. "Kids are just watching a video or reading books, so when they graduate they really don't have the skills required for practical applications, as they have never handled the machinery."
On the other hand, MTEC's curriculum and training lab are designed to mirror real-world environments so students literally get their hands dirty and "learn by doing," as Morrison puts it. As a result, the school has been so successful in churning out qualified employees and job candidates that the leaders of the North Carolina Propane Gas Association decided to model their new training facility on MTEC. "They came up here, saw the school and were so impressed they paid us a consulting fee to get them started down there," Morrison says. "They're now aiming to hold their ribbon cutting ceremony by winter. We hope to do this for other states as well."
More information on MTEC, including a course schedule and tuition assistance options, is available at mtecenter.com.
Related Posts
Posted on February 18, 2020
Posted on February 18, 2020
Join Our Email List For Updates!
Enter your email to receive important news and article updates.